Quality is Important to Us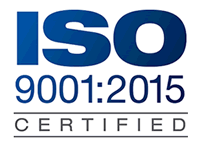 Infinity Fasteners adheres to a "whatever it takes" attitude to provide exceptional quality products and services to our customers. "Exceptional quality" includes providing the correct product, on time, every time, and the services that help our customers achieve their goals. Infinity Fasteners also follows a Shared Values Philosophy that frames our "whatever it takes" attitude.
Infinity Fasteners completed the ISO 9001:2015 audit and is proud to be ISO certified. We are dedicated to maintain and certify our high standards of excellence, delivering accurate and quality service with every order.
Infinity Fasteners, a Keller & Kalmbach Company, places highest value on the quality of its products, processes and services. Our quality philosophy is evident in everyday business. Since 1980, a certified management system has been an integral part of Keller & Kalmbach´s business. Modern quality methods, such as Kaizen, Ishikawa/risk analyses and FMEA are used for support. An extensive selection of test equipment is available for product verification. More than 25 employees are active in quality management, in order to monitor supplier evaluation and auditing, as well as products and processes. Application engineering, consultation and product range optimization are carried out, incorporating a very high level of quality. As a reliable partner, Keller & Kalmbach has already been a supplier for many years to volume production in the automobile industry.
1/A-supplier to the German Railways and the VW Group as well as Siemens, Krones, AGCO Fendt etc.
Comprehensive testing equipment
Customized quality testing
Application of KAIZEN (e.g. 5S method)
Centre of Distribution at Hilpoltstein with integrated quality assurance
Certified in accordance with:

DIN ISO 9001:2008
VDA 6.2 (German Automakers Association)

Awards:

Bavarian Quality Prize 2001 and 2010
Ökoprofit (since 2007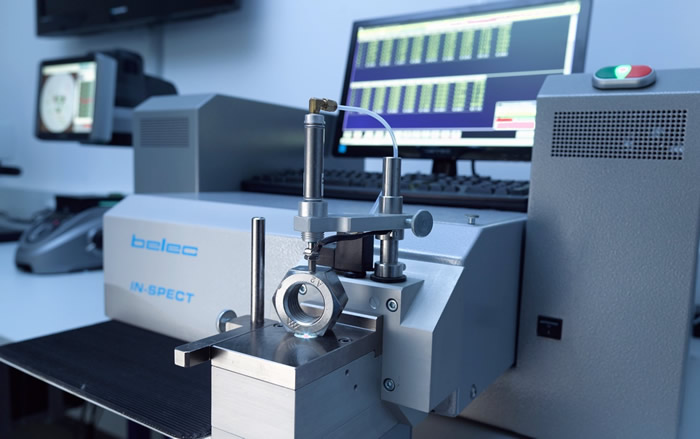 COMPREHENSIVE CUSTOMER ORIENTATION
Technical application consulting
Customized quality testing
Optimization of existing applications
Member of DIN (Deutsches Institut für Normung e. V.)
Cooperation with renowned external institutes, e.g. for extended investigations
Extensive product knowledge
Contact person for quality-related topics
Continuous improvement
Strategies for process optimization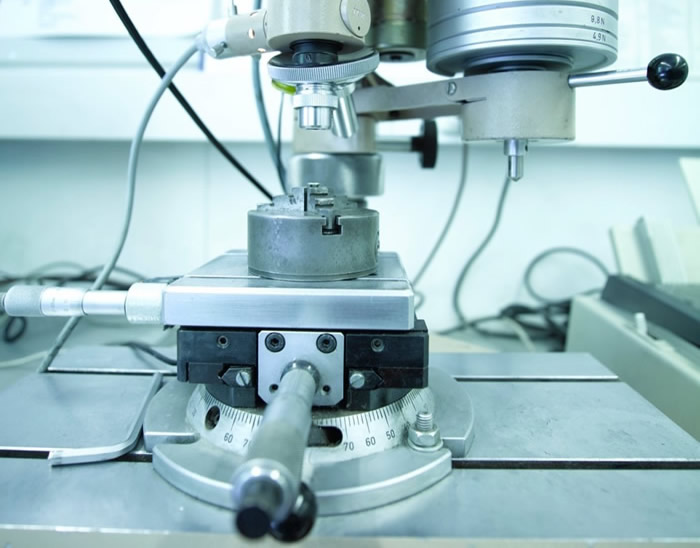 QUALITY ASSURANCE TESTS
Hardness, tensile, measurement, grinding cut testing
Eddy current tests
Scanning microscopy testing (external)
Friction coefficient testing
Threading coefficients (screwing in, torsion and other torques)
Testing the surface coating in the corrosion test chamber (according to VDA standard)
Generation of First Sample Test Reports according to PPF or PPAP Standard
Measuring Instruments
Extensive equipment for the highest standards of quality
Friction coefficient investigation
Eddy current testing instrument
X-ray fluorescence
Roughness testing device
Tensile testing machine 60 t
Hardness testing with video evaluation
Concentricity testing instrument
Profile projector
Coating thickness, material analysis testing instrument
Form measuring instrument
Torque measurement head with measurement sensors
Torque wrench
Measurement amplifier
Measuring rings
Contourograph
Measurement plate
Headstock
Grinding specimen preparation
Microscope
Spectral analysis unit
Various other measurement aids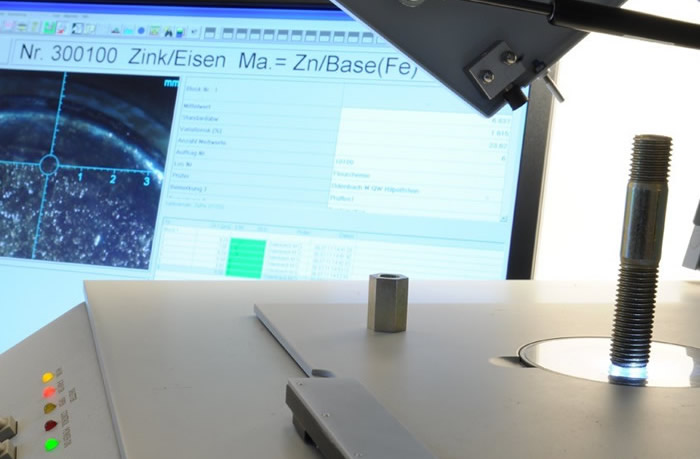 Coating thickness and material analysis testing instrument
Application: varied coating thickness checking
X-ray fluorescence procedure
Only able to be tested on steel
Testing conforms to ROHS
Interference-free coating thickness measurement of corrosion protection coatings
Simple determination of surface composition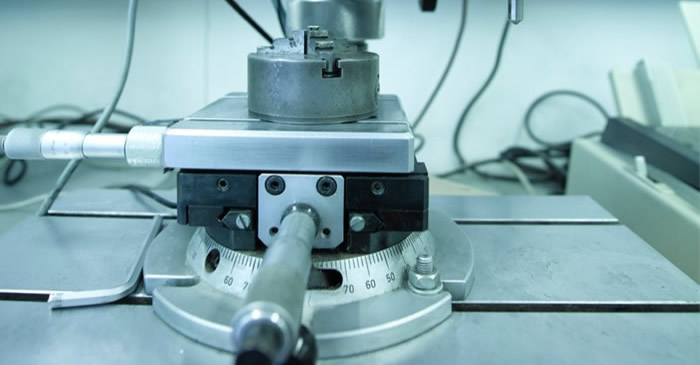 Small load hardness testing instrument
Application: Hardness testing
Core hardness
Only able to be tested on steelSurface hardness (sheet metal screw, self-tapping screw)
Testing according to the Vickers procedure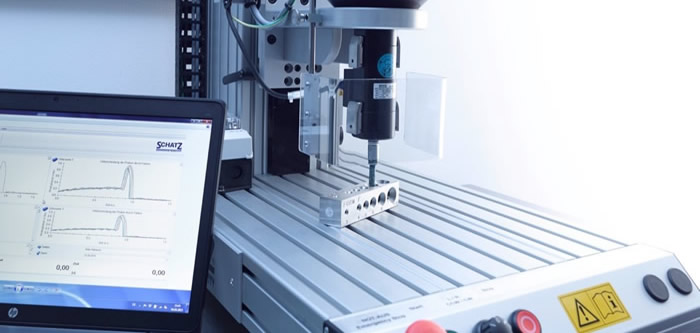 Screw test bench
Application: tightening torque
Tightening angle
Loosening torque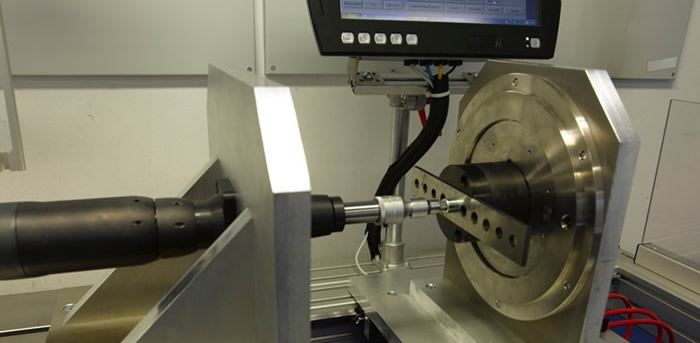 Friction coefficient investigation
Friction determination for head-thread total friction
Pretension force
Testing in accordance with the standard and German Automakers Association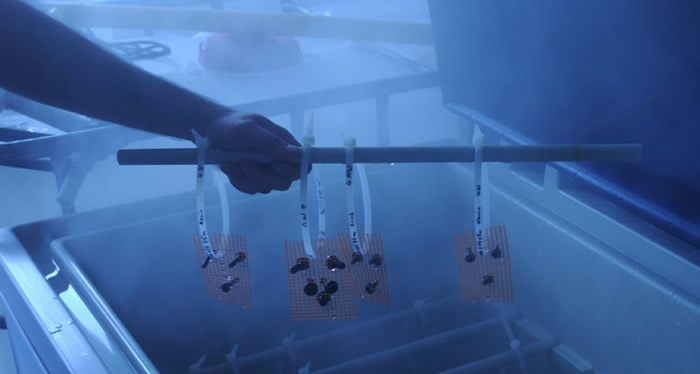 Salt spray testing chamber
Application: Corrosion tests and evaluations
In accordance with DIN EN ISO 9227
German Automakers Association standard
Typical testing times are 96h, 240h, 480h or 720h
Standardized cross-validation for analyzing protective coatings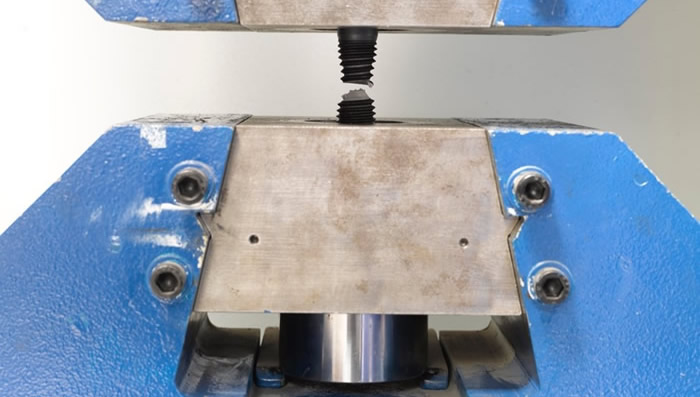 Universal testing machine for tensile test
Application: Screws and nuts from M5 – M27
Destructive test
Clamping and straining the part until breakage
Assessing the tensile strength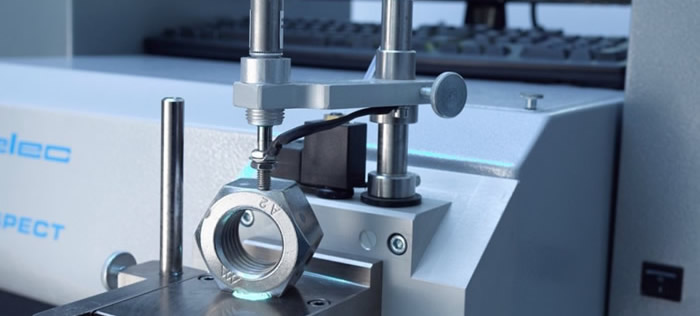 Spectral analysis unit
Determination of alloy composition
Identification of steel grades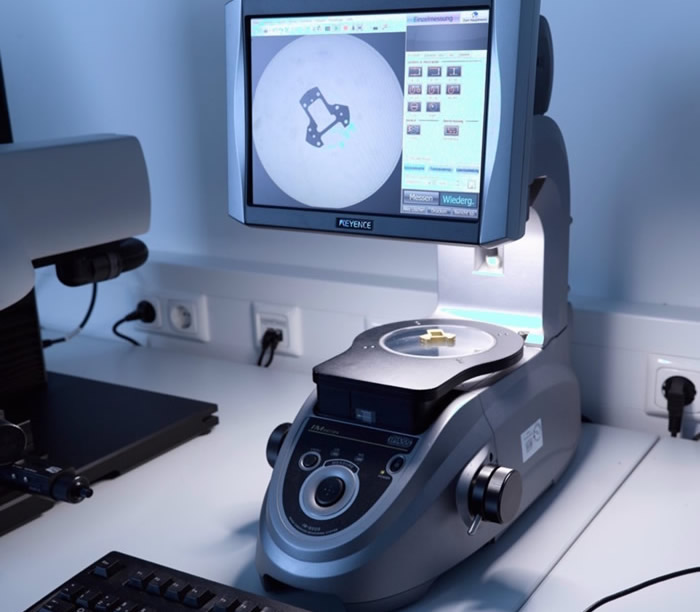 Digital profile projector (Keyence)
Determines all dimensions of the visible outline with incident light as well as transmitted light
After programming in a part, up to 99 other parts are automatically and simultaneously measurable
Faulty parts and their dimensions immediately displayed
Measuring program for external thread (core diameter, pitch diameter, thread angle)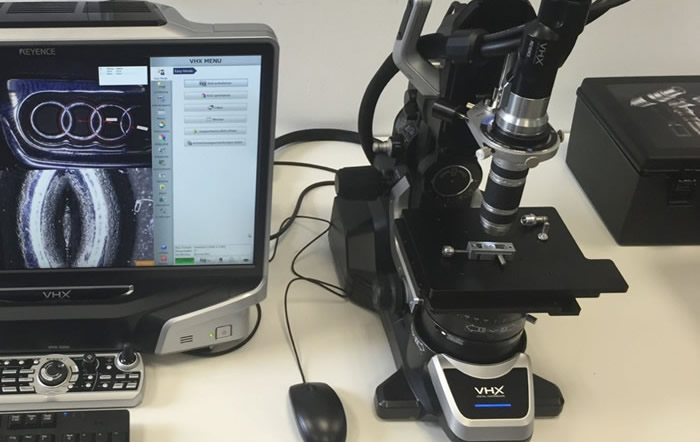 Digital microscope (Keyence)
Magnification 20 – 1000x
Depth of field
3D display
Surface analysis / measurement