INVENTORY SOLUTIONS
VMI
VENDOR MANAGED INVENTORY
Infinity Fasteners understands keeping your inventory well stocked is essential to keep your business running. We also understand every business is different, so we offer a vast array of inventory solutions that we can mold to fit your companies specific needs.
Don't worry about the hassle of stocking or keeping track of your inventory any longer. Infinity Fasteners can do all the work for you. From the order process to stocking fasteners on your product line, we will work closely with you to ensure no detail is overlooked. Here is a snapshot of how we can establish a VMI program for you.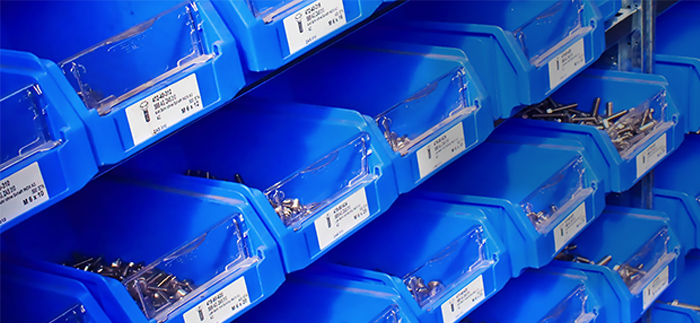 • Identify items for your VMI program
• Provide the best sourcing available
• Establish an approval process to automate orders
• Schedule replenishment orders based on your guidelines or usage
• QA items prior to delivery
• Provide accurate and on-time delivery
C-Parts Management
We offer the right solution for any requirement – from eBusiness for occasional needs up to Kanban solutions for volume production. A pioneer in the field of C-parts logistics, we set up the first industrial Kanban at Siemens in 1987. Since then, 1,200 projects were completed. 2,200,000 bin fillings a year. Click here for more information on C-Parts Management on the Keller & Kalmbach website.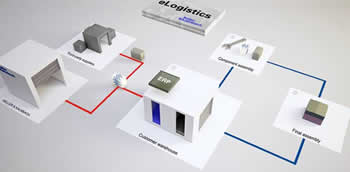 eLogistics communicates and processes data from the logistics system solutions of Keller & Kalmbach. It facilitates managing and monitoring items with recuring requirements. In addition to items from Keller & Kalmbach, products from third party suppliers can also be integrated into the automated goods management system.
CMI
CUSTOMER MANAGED INVENTORY
Rather manage your own inventory but need some help making your management process efficient? Our team at Infinity Fasteners will help you identify cost saving solutions and help implement those solutions; while you manage your inventory levels in house.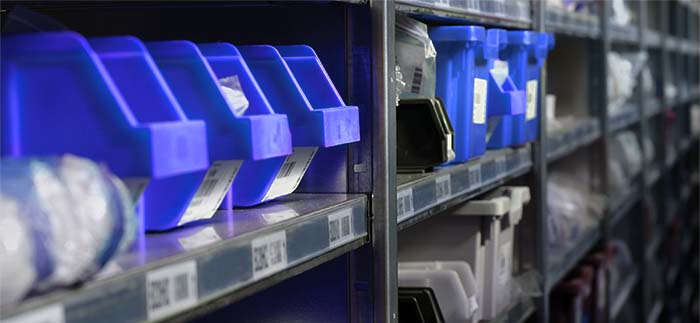 Customer Managed Inventory makes more sense for some companies. At Infnity Fasteners we want to make sure that everthing from the order process to reciving product works for your company. Talk to us about problems you face with keeping fasteners stocked; we will listen and find a solution to improve inventory managment and increase productivity.
VENDING MACHINES
Vending Technology is the newest addition to Inventory Solutions. Ths sophisticated inventory control system can accurately moniter your inventory levels with much less time and labor then a traditional inventory management system. Our vending machines allow you to have an accurate visual of your inventory, eliminating excessive inventory consumption as well as improve productivity.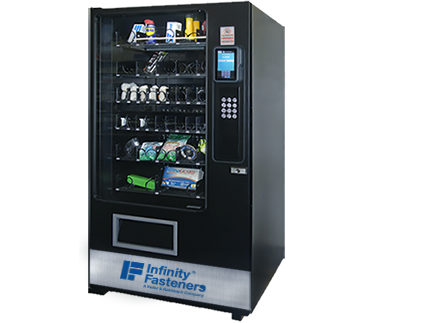 • Unit Customization
• PIN or Card Swipe Login
• Real Time Inventory Reporting
• Low Stock Alerts Via Email or Text
• Automated Orders
• Powered by WI-FI or Verizon Network
• 2 Different Models Available
• Program Custom Restrictions
• Cash Transactions Available
• 24 Hour Support
• 1 Year Warranty
• Rent or own your unit
ASSEMBLIES & KITTING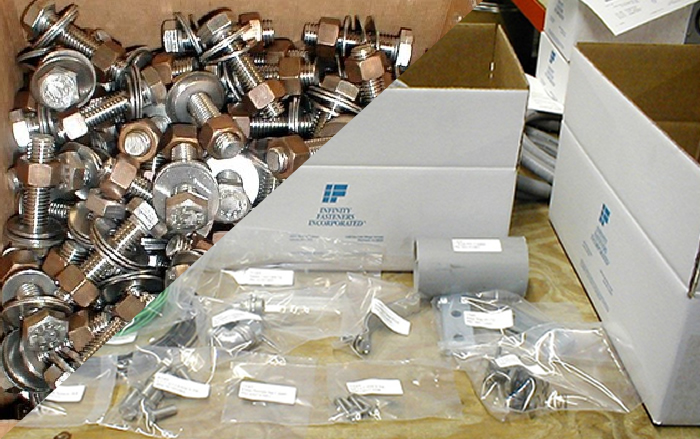 Assemblies

Purchasing individual parts intended for an assembly can be time consuming and costly. Let us help you out, Infinity fasteners can procure all the items you need and package them per your request.

Kitting

Order a variety of parts in one package with one part number. Kits will come with part number and a list of items included. You can also opt to include a barcode, instructions, material certs. and more.